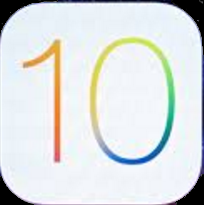 If you have IOS 10 on your system, you can take advantage of some really exciting new features. Let's pull out your device(s), and discover some of them! (Note: To check your IOS version, tap Settings, General, and then About and scroll to Version. If you need to upgrade, tap Settings, General, and then tap Software Update and follow the onscreen instructions.)
Trick 1: Mark Your Car's Location So You Won't Forget Where You Parked
Tap Settings, tap Maps, and make sure Show Parked Location (at the bottom) is enabled (green). If not, slide the white switch to the right. Once this is enabled, as long as you have Bluetooth or
Carplay enabled in your car, your parking location will be marked automatically and you will receive a notification about where you parked.
To find your car after it has been marked, tap Maps, and type in "Marked" in the Search box (or swipe upwards to see recent marked locations). Tap Directions, tap Walk, then tap Go.  Note: If you do not have Bluetooth in your car, simply tap Maps, tap the Location icon (see blue arrow in the illustration), tap the Info (i) icon, and then tap Drop a Pin. Find your car the same way as explained above.
Trick 2: Send Photos Quickly While Texting
Tap on the arrow icon to the left of where you are entering text, and then tap on the Camera icon.
 and you can now quickly take a photo with the front or rear cameras. Slide to the right to access recent photos. Slide to the left to go to your library or to launch the full camera app.
Trick 3: Use Low Quality Image Mode When Sending Texts With Images
To make this change, tap Settings, tap Messages, and then enable Low Quality Image Mode at the bottom of the screen (move the white circle switch to the right). This saves a lot of room on your device, and also does not burden the recipient with an overlarge image on their device.
Trick 4: Search Photos for People in IOS 10. 
The iOS 10 Photos app can show you photos of identified people. Simply tap the Photos app, tap Albums in the menu bar at the bottom, and then find the People album to see people that have been identified. Tap at the top of the screen to Add a Name, and from then on, you can let the facial recognition capability add new photos under that person's name.  You can even ask Siri to show you photos of a specific person and she will dis

play all the photos of that individual once you have added their name.
Trick 5: Quickly choose between 3 Different Brightness Settings on Your iPhone Using 3D Touch (select iPhone models only – 6S and thereafter)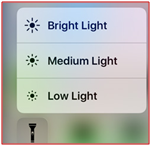 To accomplish this trick, open the Control Center by swiping upwards from the iPhone/iPad's bottom frame (not from within the touch screen). Long press on the Flashlight icon. The 3D touch menu will display with three options; Low Light, Medium Light, and Bright Light. Tap any of these options to turn the flashlight on. It will project light in the mode you have selected.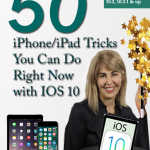 If you liked these tricks, there's a lot more to find out!  The E-book is now available at Amazon. For more information, plus a cheatsheet of more tricks, click Home at the top of this page, or click here.